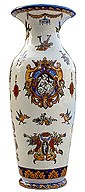 Gien Vase

The Gien Museum

The Faiencerie de Gien created the Gien Museum in 1986, that is visited by more than 40,000 people each year.
Built in an old clay body cave dating back to the 16th century, the museum tells the history of Gien from 1821 to the present.

Two rooms, including a 19th century dining room, show popular faience and artistic faience, along with many spectacular pieces created for different World's Fairs.