The "Great Upset"
(1755 and 1762)
In the XVII century, Acadia referred to the first French colony in America located on the eastern seaboard of Canada. The Acadians arrived in 1604 from the French regions of Poitou, Charentes and Britanny.

Acadia became an English colony and took the name Nova Scotia in 1713. The massive arrival of English colonists and the refusal to swear allegiance to England, led to the expulsion of 10,000 French Acadians toward the United States, Quebec and France between 1755 and 1762.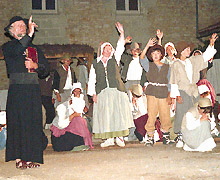 In summer, numerous festivals and shows take place in the Poitou region (a sound and light show near Loudun 86).